SA Parks and National Parks of South Africa
South Africa is renown for its beauty and wildlife diversity. Home to 7 of the world's official heritage sites, which are protected in our National Parks. The traveller soon appreciates the rich wildlife South Africa has to offer in all its abundance.
South Africa also ranks as one of the top birding destinations in the world with approximately 850 recorded species. Most of the national parks in South Africa have well developed birding facilities.
South Africa, land
of beauty and contrasts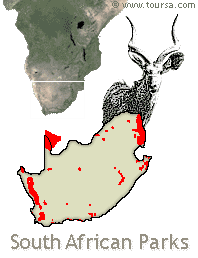 South Africa is a fairly large country. It is about the size of western europe and about 5 times larger than Britain.
South Africa has a very distinctive topography. A large interior forming a great plateau surrounded by mountains known as the Great Escarpment. The Great Escarpment almost encompasses the entire coast of South Africa and divides the narrow coastal bent and the interior.
This contrasting landscape offers a rich diversity in vegetation and geology. This in turn creates a wealth of habitats for wildlife. The Sanparks were setup to protect these different bioms in South Africa.
Accommodation in South African National Parks

SANParks offer a range of accommodation and whatever your lifestyle, it will provide an unforgettable stay.