4x4 - Off road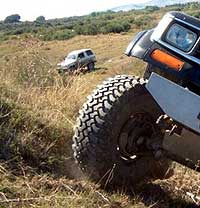 4x4 trails give one the chance to see areas of the Park, "off the beaten track." See parts of the Park that are not normally accessable to the average tourist.
A great opportunity to see animals , and experience a bush adventure as you pit your skills in your 4x4. The trails are designed as unique adventure experiences to add value to your stay in the National Park.
Although not so much challenging, a 4x4 vehicle is essential to minimize environmental damage. Some of the trails have dongas or river beds to be negotiated while all can be treacherous in the wet season.
While most parks can be traversed in a standard vehicle, some of the gravel roads in some parks will be more comfortable in a 4x4. Richtersveld is accessible by 4x4 only, while parts of Marakele are also 4x4 only. There are 4x4 routes that need to be reserved in Karoo, Kgalagadi, Kruger, and Tsitsikamma
For more details:
4 x 4 drives in Kruger Park
Madlabantu (Man-Eater) 42 km
Begins from Pretoriuskop
Pretoriuskop - Fayi Loop and winds southward towards, and then along, the Nsikazi River through Big 5 country. The northern part of the trail leads north from the Napi Road and loops past Mtshawu Dam before turning south to rejoin the Napi Road near Shabeni Koppie. The route is also traversed by a guided hiking trail, so don't be disturbed should you accidentally meet trailists en route.
Mananga (Wilderness) 48 km
Begins 11 km from Satara
Traveling a short distance north before turning east into knob thorn / marula savannah. Here you can expect herds of zebra, wildebeest, buffalo, and of course their predators –– including cheetah.
Nonokani (Drive Slowly) 62 km
Begins 14 km from Phalaborwa Gate
This route meanders southward through mopane / bushwillow woodlands to Reënvoël Dam, an ideal spot for breakfast if you make an early start. The route then continues towards and along the Olifants River where lunch can be eaten at any of the two viewpoints of the river itself. White rhino middens indicate the presence of these enormous animals in the area. Look out for the many pure-white rock outcrops in the rugged Olifants River Bushveld. The trail eventually ends once past Sable Dam.
Northern Plains - 49 km
Begins 12 km north of the Babalala picnic site (Shingwedzi/Punda Maria)
Heads eastwards into mopane scrubveld, on sometimes slippery clays, before turning north through sandveld and into the baobab country of the Pafuri. The trail meets the main tar road at Baobab Hill. Roan antelope are likely to be seen on this route.
4 x 4 drives in Kgalagadi Transfrontier Park
Nossob 4 x 4 Eco Trail (4 day trail)
Starting point at Twee Rivieren or Nossob changes on a monthly basis
Participants is totally self catered including food, water, firewood, tents and vehicles
It is possible to continue with the Gemsbok Wilderness Trail in Botswana starting at Polentswa
A guide accompanies trailists with his own vehicle and makes regular interpretative stops to highlight places of interest
Distances traveled per day on the trail are between 50 and 65 km. That leaves you with ample time to enjoy nature and pitch camp
If so requested short distances on foot around the camping site could be undertaken in the late afternoons under supervision of the guide.
Leeudril 4 x 4 Loop - 13.2km
Begins 50 km from
Twee Rivieren
This is a one way trail starting north of the Leeuwdril waterhole and ending at the lookout point north of the Houmoed waterhole
The trail will be closed if after rain the road from the confluence to Kij Kij is closed
Other Trails
Bitterpan trail - 120 km
Mabuasehube Wilderness Trail - 155 km
Wilderness Trail (starting at Polentswa) - 257 km
Direct Route – Nossob Riverbed to Mabuasehube - 170 km
Direct Route – Kannaguass to Kaa - 85 km
Addo Elephant National Park
Bedrogfontein 4 x 4 trail - 45 km
Trail runs between Kabouga and Darlington and can be traversed either way
Kabouga is situated about 40 km (one hour's drive) from the main park entrance, near the town of Kirkwood
Darlington is situated about 150 km (two hour's drive) from the main park entrance
This trail rout runs through an historical area known for its battles during the Anglo-Boer war and numerous historical relics can be viewed along the way, including an old wagon
The route travels through a variety of vegetation types, from riverine thicket, to afromontane forest, to fynbos on the peaks and into the arid nama-karoo of the Darlington area
[Contact us] for details on accommodation in Darling or Kabouga
Tsitsikamma National Park
Tsitsikamma National Park 4x4 Trail - 52 km
The trail and can be entered from the Langkloof (R62) or The Crags (N2)
The trail traverses the Tsitsikamma mountain range, starting at the coast near Plettenberg Bay and finishing in the Langkloof Valley near Misgund and runs through pine forest, fynbos and indigenous forest.

Incredible vistas towards the Ocean and Robberg Point greet the trailests as they climb towards Witberg (1134 m), the highest point, before the steep decent into the Palmiet River valley and Soetkraal. The route then meanders along the Palmiet River, through the indigenous forest and once again into a fountain of fynbos species. It then climbs again until the skyline breaks into the most amazing view of the Langkloof valley. The return route to the coast is via the Langkloof and Prince Alfred's Pass. This route is a scenic extravaganza in its own right and passes through Avontuur, the Plett Trout Farms and on to Kruisvallei, where one can either travel through to Knysna on directly to Plettenberg Bay via Wittedrif. Baboon, monkey, Cape Otter, Honey badger, leopard duiker, bushbuck are amongs the animals which can be spotted on this trail.

There are conditions when using 4x4 trails, [contact us] for more information.