Kgalagadi Transfrontier Park
Kgalagadi Transfrontier Park was proclaimed in 1931 mainly to protect migratory game, especially the gemsbok. Although the Botswana-South Africa border bisects the park, there is no boundary fence and the wild animals have complete freedom of movement in a well-balanced ecological area.
Together with the adjacent Gemsbok National Park in Botswana, this park comprises an area of over 3.6 million hectares - one of the very few conservation areas of this magnitude left in the world.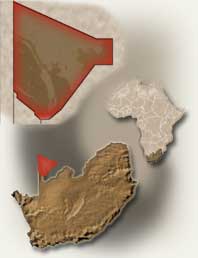 Preditor Attraction
Kgalagadi Transfrontier Park is found between South Africa, Botswana and Namibia. Kgalagadi park boasts vast open spaces and endless horizons, one of the world's truly unspoilt eco-systems. There is something magical about this vast desert national park.
Despite frequent drought and extremes of climate, Kgalagadi nurtures life in great abundance, and it's plains teem with animals of virtually every description - the famous Kalahari Lions, Gemsbok with their warrior-like markings, colourful and acrobatic raptors soaring the forever blue skies, endless numbers of Springbok, and barking geckos that fill the starlit sky with their coughing sounds.
Because of the sparse vegetation and concentration of animals in the dry riverbeds of the Auob and Nossob Rivers, Kgalagadi offers a premium mammal viewing destination. It is especially renowned for predator watching and for the seasonal movement of large herbivores such as blue wildebeest, springbok, eland and red hartebeest.
Kgalagadi Park's biggest attraction are the predators. Excellent chances of seeing cheetah, leopard, brown and spotted hyena and the definitive black-maned lion exist.
Accommodation in the Kgalagadi Transfrontier Park

From fully furnished cottages to modest bungalows, even camping. Kgalagadi offers a range of accommodation.
Rest Camps
Wilderness Camps