Tsitsikamma National Park
Tsitsikamma National Partk stretches for 80km from the Krom River Forest Station to the Salt River. It lies between the Tsitsikamma Mountains and the coast. Tsitsikamma is a Khoisan (early inhabitants of the area) word meaning, "place of much water" and is Africa's oldest and largest marine reserve, playing a vital role in the preservation and conservation of marine fauna and flora.
Accommodation in the Garden Route & Tsitsikamma National Park

From fully furnished cottages to modest bungalows, even camping. Tsitsikamma offers a range of accommodation.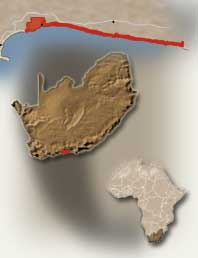 "Place of much water"
The Tsitsikamma's spectacular scenery includes the Indian Ocean breakers, pounding rocky shores beneath 180 m high cliffs, ever-green forests and fynbos (proteas and heath) rolling down to the sea in a lush carpet where ancient rivers have carved their path to the ocean through rocky ravines.
Tsitsikamma National Park is the third most frequently visited out of all the national parks in South Africa. The park conserves a considerable portion of the natural biota (all living organisms) of the Garden Route.
Tsitsikamma National Park protects a wonderland of inter-tidal and marine life. This is one of the largest single unit 'no take' (including fishing) Marine Protected Areas (MPA) in the world, conserving 11 percent of South Africa's Temperate South Coast rocky shoreline and provides a 'laboratory' for fisheries baseline research on endangered linefish species.
In 1964 when it was proclaimed, it became the first Marine National Park to be proclaimed in Africa. Approximately 30% of the park is covered in fynbos (Cape Floral Kingdom), scattered amongst the forest vegetation, boasting a wide variety of beautiful flowers, including proteas and heath. Many species of forest, fynbos and sea birds are present.