Golf in the Kruger Park
Skukuza Golf Course
The golf course was built in 1972 as a recreational facility for the Skukuza personnel, and is now available to visitors to the Kruger National Park for the first time.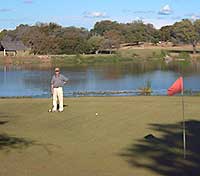 The Skukuza Golf Course is a magnificent 9-hole (18-tee) course situated in the world-renowned Kruger National Park on the outskirts of Skukuza restcamp. The rich wildlife sanctuary surrounding the golf course is home to the Big Five, a huge variety of birds and countless animals, which all conspire to provide the visitor with a harmonious close-to-nature golfing experience.
The course is a Par 72, and is 5950m (6450 yards) for men and 5059m (5480 yards) for women. Since the course is not fenced-in, uninvited spectators are a common sight, hippo, impala, warthog and baboons to mention but a few. The course offers the pleasure of challenge and adventure. For example #2, Par 3, have water on the left and to the back of the green. The signature hole #9, Par 3 of about 150m is played across Lake Panic. The Skukuza Golf Course has no bunkers, although 'aerial bunkers' abound because of the many trees found on the course.
Tee-off times are available for visitors in the mornings between 07:00 and 11:00 from Sunday to Friday. Please book in advance to avoid disappointment.
An indemnity form must be completed prior to playing.
Standard golf dress code applies.
There are no caddies or golf carts but trolleys are available for hire.
Light refreshments and full bar facility daily.

A unique opportunity for golfing enthusiasts within one of the world's greatest conservation establishments. The Skukuza Golf Course is designed for all levels of golfers. Please bring along your golf clubs next time you visit the Kruger National Park and enjoy one of the most unique 9-hole golf courses in the world.