Wilderness and Hiking trails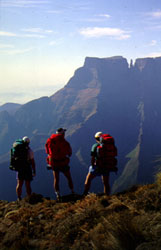 Wilderness and hiking trails allow a more adventurous visitor the chance to experience the bushveld on foot for 2 or more days.
Most trails are self catering where one has to carry all provisions and equipment for the duration of the trail.
Some of the trails, like the Kruger Wilderness and Table Mountain Hoerikwaggo trails are accompanied by two experienced rangers sharing their knowledge of the local bushveld ecosystems. The Hoerikwaggo and Dolphin trails are ported trails (provisions are taken to the overnight lodges) in more upmarket accommodation.
KwaZulu Natal has some ausome hiking trails. These must be booked directly through the trails reservations office: Tel: 033 8451067
Klipspringer Trail (3 days – 2 nights)
Rhebok Hiking Trail (2 days and 1 night)
Vensterval Trail (4 days, 3 nights)
Lelieshoek-Oemsberg Trail (3 days, 2 nights)
Kodaspiek Trail (2 days, 1 night)
The above mentioned are only operational from 1 April to 30 September
Otter Trail (4 nights, 5 days)
Tsitsikamma Hiking trail (2-6 days)
Dolphin Trail
The Strandveld Educational Trail starts and ends at Geelbek Homestead (2 days, 3 nights)